As announced on the e-list yesterday, registration is now OPEN for the 2021 KLAS Users' Conference! The deadline to register is 8:00 PM Eastern / 5:00 PM Pacific Friday, June 4.
To make this year's process easier than ever, we chose to use the PheedLoop platform to handle registration and even credit card payments. Yes, you can pay via a credit card this year! If you prefer or need to still pay by check, you can also download an invoice directly from the registration page. 
$25 for individual attendee tickets
$50 for small group tickets (2-5 persons)
$100 for large group tickets (6-10 persons)
Group Ticket Purchases: If you're purchasing more than an individual attendee ticket, one person from your organization can register, select the combination of the tickets needed, and include each individual attendee's name and contact info. Each listed attendee will be emailed their ticket info separately. An organization can purchase whatever combination of individual, small, and large group tickets makes sense for the number of staff they want to attend.

Example: To purchase one Large Group Ticket for 10 people, select 1 "Large Group Ticket" with your name listed as the "Attendee". Then proceed through the payment and checkout options and then add the other 9 persons as "complimentary ticket" holders when prompted to do so.
Follow this link to begin your 2021 KLAS Users' Conference attendee registration or read on for more information about the registration platform.
1. Registration Category
Begin the registration process by selecting "Attendee" – since our conference does not have sponsors or exhibitors, this is the only registration category that will be listed.
2. First Attendee Info
You will then need to fill in details for the first person registering for your library. If you will be purchasing for a group, there is an option to add additional attendees' information later on as complimentary ticket holders. For now, just enter your own information, or pick someone from the group that will be attending, then proceed to checkout.
There is an optional field if you would like to give us a heads-up about any accessibility requirements. One reason we chose the PheedLoop platform to host the conference was its extensive suite of accessibility options, but don't hesitate to let us know what you may need. We want everyone to have full access to the conference!
On the second page, please select what pronouns your fellow attendees should use for you during the conference. You can select multiple options if desired (for example, if you are comfortable being called either "she" or "they" and want people to use both options for you).
3. Ticket Selection
Next up is the ticket page, where you can select the ticket or tickets you are purchasing for your organization. For example, if you want to register a total of 5 people for the conference, add 1 "Small Group" ticket (which will cover your registration, plus up to 4 additional individuals, listed as complimentary ticket holders). For 15 people, select 1 Small Group ticket and 1 Large Group ticket then proceed to checkout. And of course, if it's just one person, scroll down to "Individual." 
Once you have added at least one ticket, fields will be added to designate the Ticket Owner--just leave the info that is brought in with your own details. There will be a place later in the process to add the info for the additional people you will be registering under a group ticket.
4. Payment
You can pay by credit card, or select "Other Payment Method" to generate an invoice and pay by check. You can download once your registration is submitted, and it will be emailed to you as an attachment as well. The invoice will include information on where payment should be sent, and what information to include with it. 
When you have selected all desired tickets and your payment type, use the Checkout button to proceed.

5. Success Page
Congrats, you are not officially registered! If you selected "Other Payment Method," your registration will be pending until payment has been received.
If you've included any group tickets in your registration, the success page will allow you to register the additional attendees included in the ticket price. It does not collect as much info for them as it does for the original ticket holder, but they can fill in additional info in their profile later on.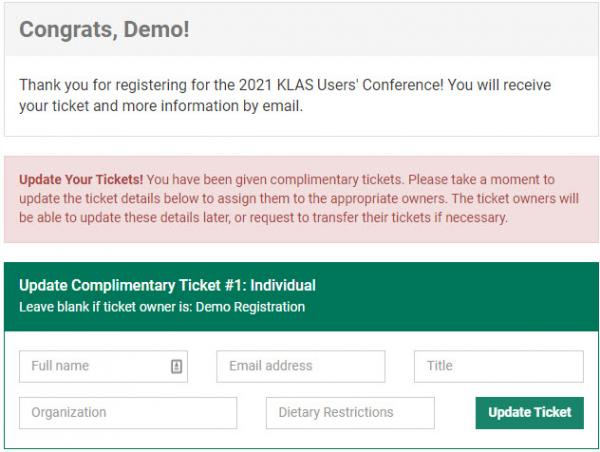 Note that the fields include "Dietary Restrictions" by default, but since this is a virtual conference, we don't need to know that! Feel free to use that field to report any Accessibility Requirements instead.
Be sure to use the Update Ticket button for each ticket once you've assigned it to the proper individual. You do not need to assign any of the complimentary tickets to the person whose info you already filled in--that person is already registered.
Finally, the success page also includes the option to download your invoice (if you selected Other Payment Method) or your receipt (if you paid by credit card).

Questions?
If you have any problems with or questions about the registration process, please let us know at ! The occasional wrinkle is inevitable, with this being our first-ever online conference, but we will do everything we can to make it a smooth and easy experience for our attendees.
Thanks for your patience as we get this all worked out!