Keystone Systems' office will be closed Thursday, November 24 and Friday, November 25 in observance of Thanksgiving. But before we send out staff off to gather with friends and family, we asked them to share some of their favorite holiday recipes.
We're all grateful that you're part of our KLAS users family, and hope you all have a lovely holiday!
From Nancy Honeycutt, Customer Support Manager:
Mom would always make refrigerator rolls. One time she left a cookie sheet with rolls rising on the counter while we went to pay a Christmas visit to neighbors. When we came back, the cookie sheet was on the floor, completely cleaned off, and the dog was suspiciously innocent (and sick later that night).
Refrigerator Rolls
Ingredients
1 yeast cake
1/2 cup lukewarm water
2/3 cup shortening
1 tsp salt
1/2 cup sugar
1 cup mashed potatoes
1 c scalded milk
6-8 cups flour
2 eggs
Instructions
Mash potatoes.
Add shortening, sugar, salt & eggs. Cream well.
Dissolve yeast in water, add to lukewarm milk. Then add to potato mixture.
Add sifted flour to make stiff dough. Knead lightly.
Place in casserole and brush top with butter.
Cover tightly and place in refrigerator until ready to use.
About 1/2 hour before baking time remove and shape in rolls. 
Cover and let rise until light.
Cook at 400* for 10-12 minutes.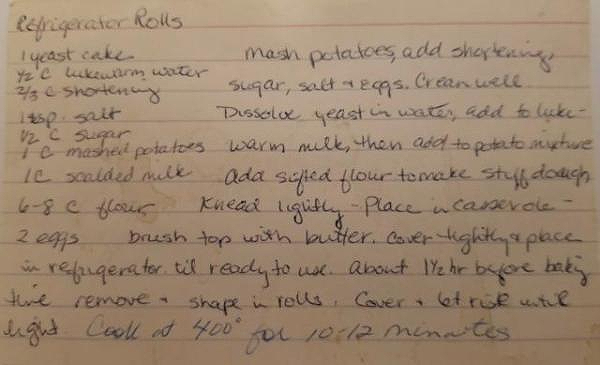 From Marion Campbell, Customer Support Specialist:
One of my families favorite food for the holidays are sweet potato biscuits. One holiday when my nephews were 9,10,10-ish, the biscuits came out early and were warming on the table. Slowly, they each snuck a biscuit or 3... when it was time to eat there were no biscuits left in the basket because the boys had eaten them all. Needless to say, a 2nd tray came out soon after but the boys were full from biscuits and did not eat much else that year. They all had tummy aches from the biscuits and now the rule of biscuits is: only eat 2, more than 2 and you will not be happy.
Sweet Potato Biscuits
Here's what's cookin': Sweet Potatoe Biscuits
From the kitchen of: Dorothy Wright
Ingredients
4 cups packed of sweet potatoes
1 cup Crisco
1 cup of sugar
4 cups of self-rising flour
Instructions
Peel sweet potatoes and boil until done.
While hot mash and add to them Crisco, sugar, and flour.
Mix good.
Work into biscuits.
More flour is sometimes needed. Depends on wetness of potatoe to be able to handle the mixture.
Bake at 350* for 20-30 minutes. Depending on size of biscuits.
Mix handles better if cooled.
Bake on greased cookie sheet.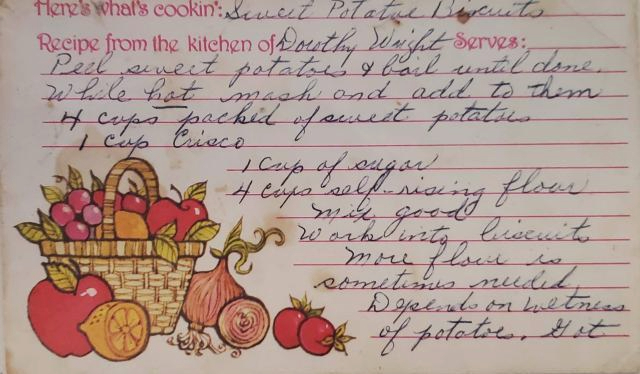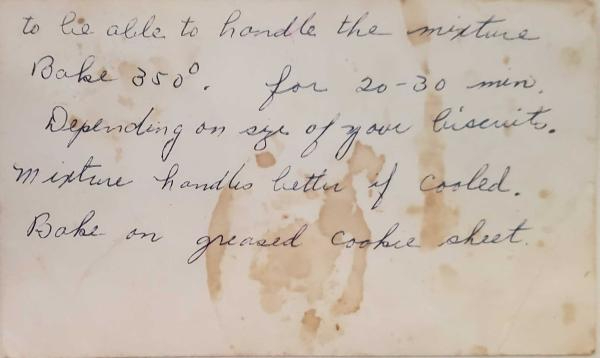 From Katharina Stevens, Customer Support Specialist:
Among many other things I am thankful for are ovens that allow you to set a specific temperature and that cook evenly. Baking in East Africa was always an adventure. One summer I brought the ingredients for pumpkin pie back with me to make at Thanksgiving. It didn't turn out very pretty. Had to cut off the burnt parts, and take a moto taxi across town to buy some cinnamon whipped cream to hide the mess. Tasted good though.
Seriously though, I'm immensely thankful for family, friends and the blessing that is America. We've come a long way from the 5 kernels of corn that that Pilgrims had to eat each day that first winter of 1620.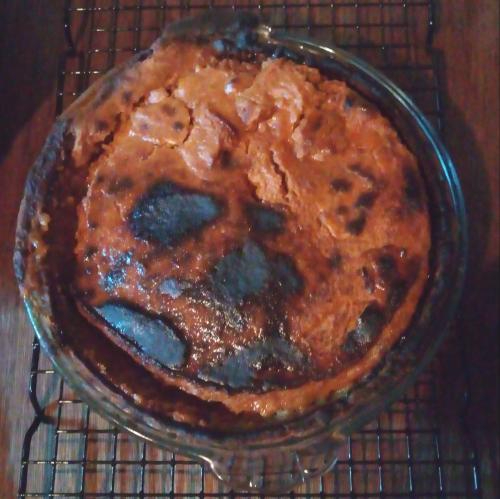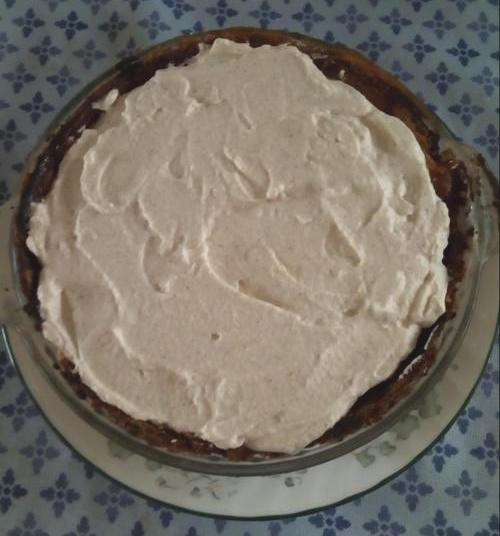 From Drea Callicutt, Director of Marketing, Sales & Communications:
One of our favorite holiday dishes is more recent. My sister learned to make duck fat roasted potatoes while she was in graduate school in Edinburgh. She made them for us for the first time for Christmas dinner when were visiting her in Leeds, and they're now a staple whenever she's joins us for a holiday meal.
This recipe from Vindulge.com is pretty much how she makes hers:
Roasted Duck Fat Potatoes
Equipment
Large Sheet Tray
Parchment Paper
Ingredients
2 pounds yellow potatoes, cut into ½ inch dice
2 tablespoons salt (for boiling the potatoes)
¼ cup duck fat
1 teaspoon kosher salt
1/2 teaspoon pepper
1 tablespoon freshly graded parmesan
1 teaspoon thyme, finely diced
Instructions
Preheat the oven to 450 degrees Fahrenheit.
In a large pan, place the diced potatoes and fill with cold water until it just covers the potatoes. Add 2 tablespoons of salt in the water.
Bring to boil. Start timer for 14 minutes. When the potatoes come to boil, reduce heat to a simmer. After timer runs out, strain the potatoes in a colander.
In a large bowl, place the potatoes and then add the duck fat, additional kosher salt, and pepper. Stir with your hands to incorporate and then place on a large baking sheet lined with parchment paper.
Place in the oven, and toss the potatoes every 15 minutes. The duck fat will slowly brown the potatoes, especially the sides touching the pan. So turning the potatoes every 15 minutes will help get more of the crunch on the surface area of the potatoes.
After 40-45 minutes, the potatoes should be golden in color. Remove and place them in your favorite serving dish. Top with the parmesan and thyme. Serve warm.