Congratulations to Kimberly Tomlinson, Wisconsin Talking Book and Braille Library, and Maggie Witte, Kansas State Library, Talking Books Service, our two finalists for the 2023 Julie Klauber Award!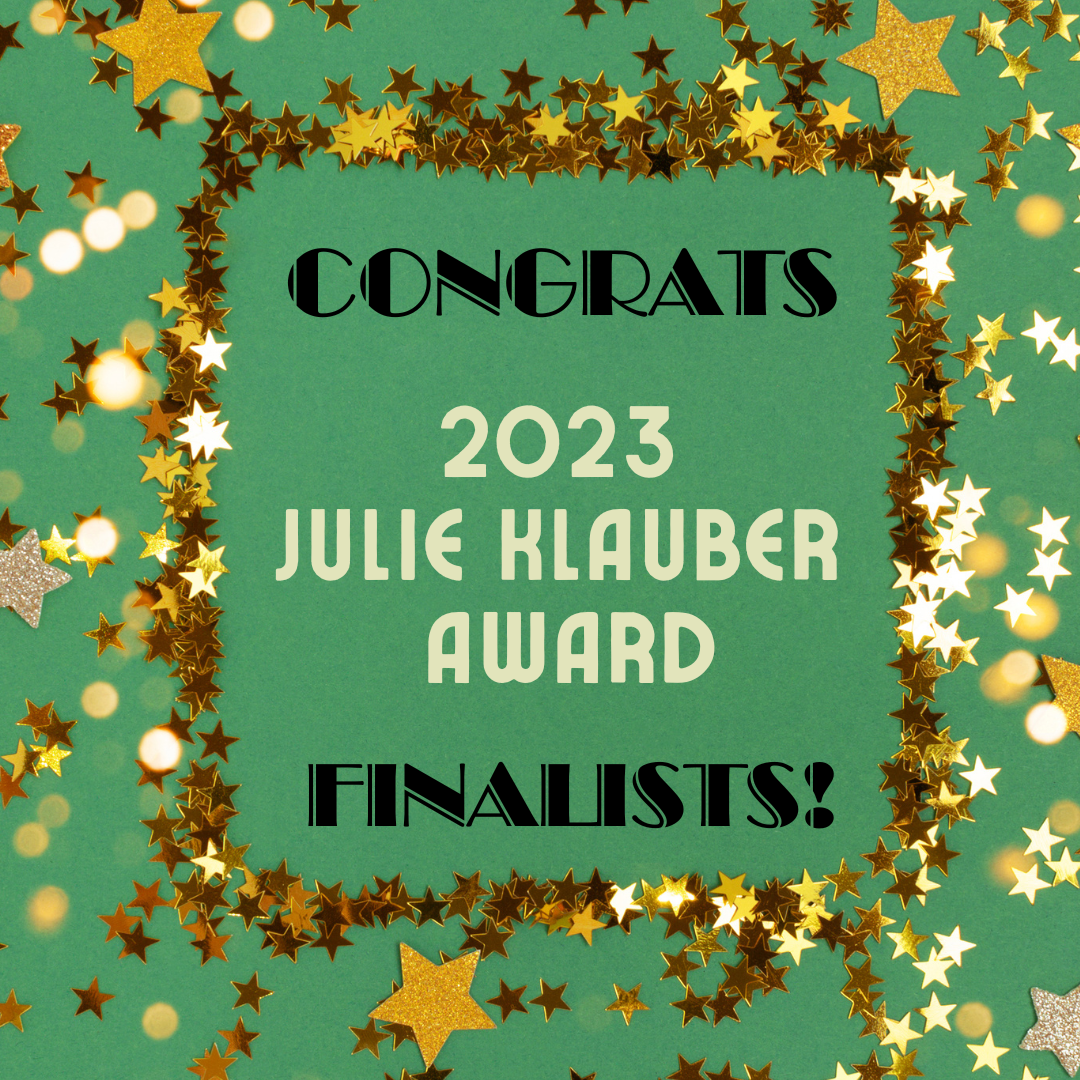 You have each made a significant impact on your library, patrons, and your community! We hope sharing selections from the nomination submitted for you lets both you and others see just how much work you have done and how your efforts inspire others.
The selected recipient of this year's award will be honored during a ceremony held on Monday, July 17 in Nashville, TN as part of the 2023 KLAS Users' Conference.
Nominee: Kimberly Tomlinson, Wisconsin Talking Book and Braille Library
Nominated by: Zarina Mohd Shah, Wisconsin Talking Book and Braille Library
What service(s) has the nominee done in the spirit of Julie Klauber?
Kim's work with the Audio & Braille Literacy Enhancement (ABLE) is one of her outstanding achievements. ABLE is a nonprofit organization that works with WTBBL by brailling and recording Wisconsin authors, our "Bulletin Board" quarterly newsletter, DVD catalogs, Milwaukee Magazine, and more. ABLE also provides essential services to the visually impaired and print disabled in local communities, schools, and other institutions and individuals nationwide, including braille transcriptions, tactile representations of graphs, diagrams, pictures, and audio recordings, at an affordable cost.
ABLE relies on donations and grants to offer services for the print-disabled. In writing local grant proposals, ABLE needs, for instance, KLAS Readership and Circulation statistics to add support for their services. Kim performs the crucial role of diligently gathering and delivering valuable data to ABLE, including the number of WTBBL patrons in each county, circulation numbers of a recorded local author from a specific county, and other interesting facts from the KLAS data (and NLS BARD) ABLE could work with.
The number of local grants received with help from data compiled by Kim from KLAS makes it possible for ABLE to offer their services. ABLE appreciates Kim's important role in supporting their organization and mission that has a lasting impact on our print-disabled communities.
How do they affect your library / community and / or the KLAS Users' Community?
Kim's knowledge and understanding of KLAS were invaluable in assisting WTBBL's successful migration to the new DOD system at the end of 2021. In hindsight, our work seemed seamless during that busy period. Kim's efforts were instrumental in helping WTBBL staff complete the migration smoothly. For example, Kim trained staff to modify and update patron's records in preparation for DOD and for patrons to pick up their books in the new format. Kim's guidance helped us complete the migration smoothly. WTBBL staff appreciated the new system and shared the knowledge of the efficiency and cost-effectiveness of the new DOD system with patrons. For instance, there are no longer due dates for digital audiobooks. WTBBL did our best with Kim's guidance and sealed our expectations of her as our KLAS Guru.
Nominee: Maggie Witte, Kansas State Library Talking Books Service
Nominated by: Michael Lang, Kansas State Library Talking Books Service 
What service(s) has the nominee done in the spirit of Julie Klauber?
Recently, Maggie has coordinated and led the network LBPD summer library reading program working group. The group allows library staff to share ideas for accessible summer reading programs. I don't know if others agree, but I feel that NLS's new commitment to providing resources to support summer reading is a direct result of this working group. Maggie is also an active member of the NLS summer reading committee.
This year she created a circulating braille awareness kit. The kit, filled with braille books, games, and activities, will introduce sighted children to the braille alphabet and teach them the importance of braille for readers.
Last year Maggie partnered with the Wamego Public library to provide braille overlay labels for their StoryWalk. Since then she has provided braille for four more Storywalks and plans to continue this project with WPL and hopefully expand to other libraries. She continues to lead virtual monthly and a quarterly book discussion groups and provides excellent individual service to our users.
How do they affect your library / community and / or the KLAS Users' Community?
The summer reading resources shared from the working group and the increased support of NLS promise to create a much more robust and accessible summer reading program for talking book users nationwide and allow for libraries with fewer resources to provide a wonderful program.
With her programs, she creates a community of patrons across Kansas, who share many commonalities, but due to distance may never had met if not for Maggie.
She continues to advocate for and raise awareness of the accessibility needs of print disabled through activities like the StoryWalk, braille kit, and presentations at professional conferences.
Overall, she provides empathetic friendly service to our patrons, working hard to find solutions that fit their needs.