Welcome back to the "The Stars of Keystone Systems' Staff" series. Each will include some basic info and insight into one of our staff members. We hope these posts will provide you a look into who makes up our diverse, supportive, and knowledgeable staff.
Basic Stats:
---
Name of Staff Member: Drea Callicutt
Year Hired: 2002
Current Job Title: Marketing, Sales & Communications Coordinator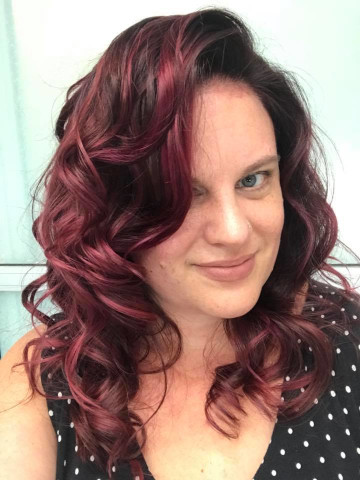 Getting to Know You Q&A:
---
Q: What is your favorite part of your job?
A: Collaborating with other Keystone staff as well as staff from our various libraries and organizations to create and provide opportunities for our users to learn and share how to better serve your patrons.
Q: What did you do before working for Keystone?
A: After graduating with a B.A. in Journalism, I was a teacher's assistant in a Montessori classroom and then worked for Tech Resource Group providing onsite and then phone-based tech support for contracted clients.
I joined Keystone in December 2002 and combined my Communications degree and experience in software and hardware to fill the position of "Sales & Marketing Support". In 2011, I decided to go back to school part-time. I graduated in 2014 with a Masters in Library Science with a concentration in Special Libraries and an emphasis on community / public relations, outreach, and serving special populations.
Q: What are your hobbies outside of work?
A: My husband and I have participated in non-profit medieval reenactment organization for over 20 years. In fact, we met at a business meeting of our local group. A few years ago, we also became costumed volunteers at Jamestown Settlement in VA where we interpret and teach the public about life in the colony including historic clothing, foodways, etc. Also, I love to travel, sew, cook, read, and play board and card games.
Q: If you could go anywhere on vacation, where would you go?
A: I am very interested in traveling to the far east, in particular, India and Thailand. I especially love the history, arts, and food of each of these cultures.
Q: Do you have any pets? If so, what kind and what are their names?
A: My husband and I have three dogs. Enoch Squirrlesbane's a 9 or 10-year-old pug / beagle mix that was found as a stray. Lafayette Nubbintail is a 3-year-old French bulldog chihuahua mix from a local animal shelter. Hercules Maximillian Mulligan aka Max is a 9-year-old pug from NC Pug Rescue.