The 2021 KLAS Users' Conference is over... but if you didn't get to all the sessions you hoped to (or if you just miss us already) the online event portal is still open!
You can revisit any session page to view the recording. Also, be sure to scroll down to the bottom of the session page to download the chat transcript, slide deck, and any other handouts. The chat features are still live as well, if you have any Private Messages you haven't answered yet or want to ask additional questions of our presenters. If you aren't ready to put your headphones back on yet or need a month's break from PowerPoint before you can stand to look at another slide, that's fine too—the event portal will be there for you until March 2022.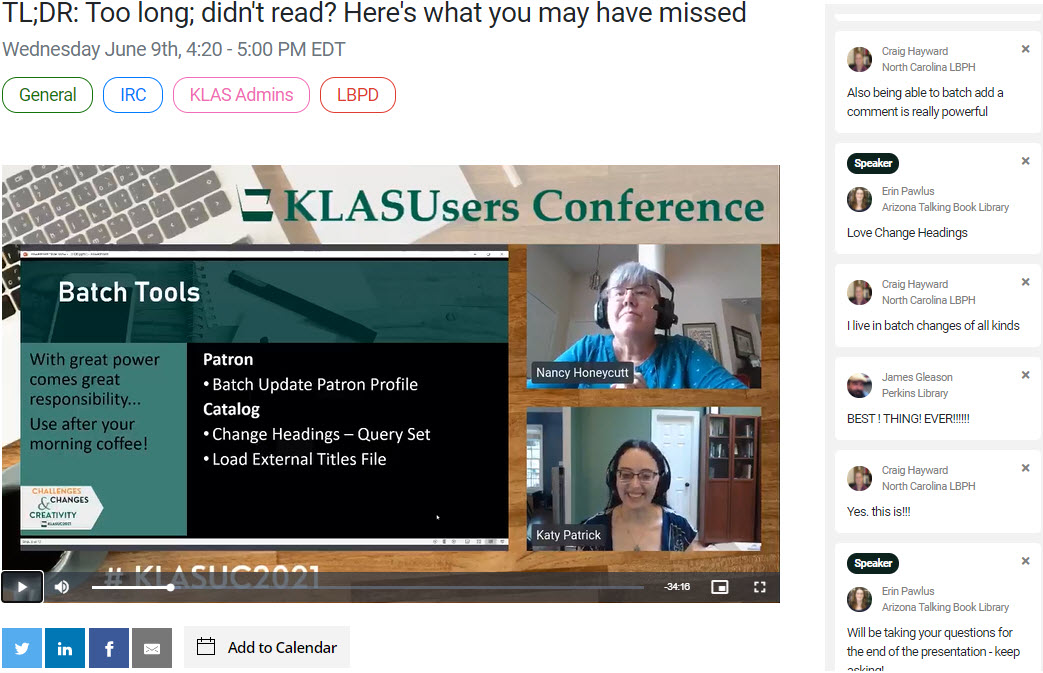 In addition to reviewing the conference content, keep an eye on your inboxes for a follow-up survey. This information will be especially valuable this year, since this was our first-ever online conference, and since the Users' Group will be considering whether to hold virtual conferences again in the future. 
In the meantime...
Thank you! Thank you! Thank you! to everyone who attended the conference, and especially to those who presented a session, moderated a roundtable, or just joined in the discussions. Your contributions are so valuable, both to the KLAS Users' community as a whole, and to us as well. In the final count, we had 261 attendees and 44 speakers (including Keystone staff) for our 38 conference session. 
I hope you came away from the conference with new ideas and a better understanding of KLAS. On Keystone's side, we have a long to-do list and a ton of excitement from hearing how you use KLAS, where we can make things better, and what your priorities are.
While I'm sorry I didn't get to grab dinner or drinks with any of you, or gather around the coffee dispenser to rev up for the day, I've still come away from the conference with the renewed enthusiasm stemming from really seeing how your work impacts others. You are all out there doing amazing things, and I'm so glad we get to be a part of and help support it.
Finally, if you have questions or need assistance with anything you learned at the conference, don't hesitate to use the Support button and let us know! We know you all had a ton of new info thrown your way, and we're happy to help make sense of it all wherever needed.